The inaugural Pulse eSports Independence Day Cup is taking shape, promising an exhilarating competition set to unfold on October 9th at the prestigious Rozaho venue in Upper Kololo.
The grand champion of the day will seize the spotlight, walking away with a substantial Shs500,000 cash prize, an illustrious gold medal, and a gleaming trophy.
In addition to these coveted rewards, a trove of exciting goodies will await their triumphant embrace.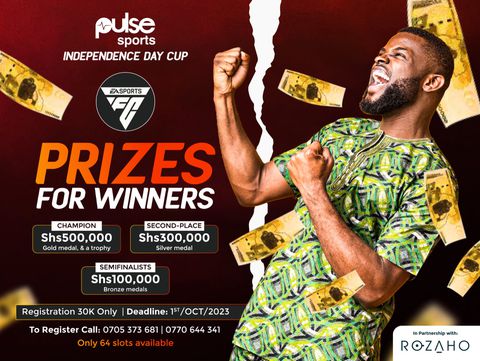 Meanwhile, the runner-up will have their efforts recognized with Shs300,000, a prestigious silver medal, and a delightful array of goodies to savor.
For the determined semi-finalists, their impressive journey will not go unrewarded, as they'll each pocket a commendable Shs100,000 in cash and carry home a bronze medal as a symbol of their exceptional performance. Of course, goodies will be part of their well-deserved package.
Clive Kyazze, the head of the Pulse Sports team, affirmed, "There is money and goodies to be won by the outstanding performers, that's for sure."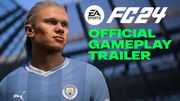 In a ground-breaking move, Pulse Sports Uganda is set to reshape the gaming landscape in Uganda with the inaugural EA Sports FC 24 Independence Day Cup.
In a strategic move to unearth and honor top gaming talent in Uganda, the tournament organizers are introducing seeding points for players starting from the round of 32.
Kyazze elaborated, "This is meant to help us identify the best player in Uganda after a series of championships, not just one."
The overall champion of this inaugural competition will secure a substantial 120 points. The runner-up will collect an impressive 100 points.
Semi-finalists will earn 80 points each, signifying their remarkable skills. Even those who reach the quarter-finals will be recognized with 60 valuable points.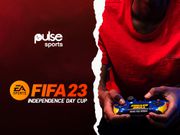 Do not let this chance to become a part of gaming history slip through your fingers. For any inquiries or to register, please do not hesitate to contact the management at 0705373681 or 0770644341.
Participants stopping at the round of 16 will acquire 40 points, marking their progress. And lastly, a noteworthy 20 points will be awarded to all those who reach the round of 32.
Kyazze emphasized: "The idea is to recognize the best eSports players in Uganda and give them a platform to showcase their potential while earning national recognition."
As for registration, every participant in this inaugural competition will contribute Shs30,000 as a registration fee, an investment in their gaming journey.
The intriguing twist is that those who attain the quarter-finals will be exempt from future registration fees, solidifying their esteemed seeding status.
For inquiries or to register for this exciting event, do not hesitate to contact the management at 0705373681 or 0770644341.