On the evening of October 22, 2023, Moroccan powerhouse Wydad Casablanca secured a significant 1-0 win over Nigeria's Enyimba Club at the Goodwill Akpado Stadium in Uyo.
This was their first quarter-final clash in the debut African Football League (AFL) contest.
Wydad Casablanca's captain, Yahya Gibran, netted the game's sole goal, proving decisive for the Moroccan side in their quest for a pivotal victory.
This win underscored Wydad Casablanca's robust entry into the maiden AFL and signalled their ambition to vie for the championship.
The home side, Enyimba, came off the blocks energetically, narrowly missing the lead within the first 20 minutes, if not for the stellar defence displayed by the Moroccans.
Yet, in the 28th minute, Ayoub Al-Amoud from Wydad took a shot that just missed the target.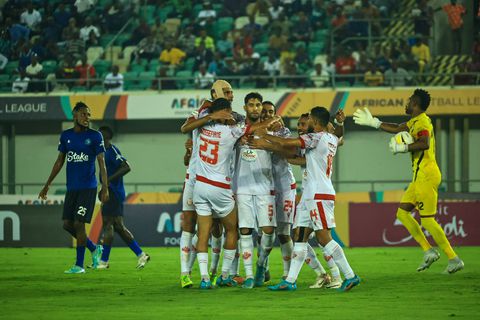 Enyimba and Wydad had their share of scoring chances throughout the game but lacked the clinical finish.
However, a turning point arrived in the 37th minute when Wydad's Yahya Gibran capitalized on a penalty, granting his team a 1-0 advantage.
This score held firm as the first half concluded. Enyimba returned with renewed vigour in the second half, striving to level the scoreline.
Despite their efforts, they found themselves thwarted by Wydad's tight-knit defence, spearheaded by Yahya Gibran. Wydad, on the other hand, looked to increase their lead with counter-attacks.
Despite Enyimba's persistent efforts, they couldn't find the back of the net, resulting in a 1-0 triumph for the visiting Wydad Casablanca.
The rematch is scheduled for October 25 at the Mohammed V Stadium in Casablanca, Morocco, where Enyimba will be the guests of Wydad Casablanca.