Kitara FC faced their first defeat in the 2023/2024 StarTimes Uganda Premier League with a narrow 1-0 loss to Maroons FC.
The decisive goal came was scored by Fred Amaku in the 60th minute at Masindi Stadium on Wednesday evening.
Amaku seized the moment with a powerful shot from outside the penalty area, which eluded Kitara's goalkeeper, Crispus Kusiima.
Despite a golden opportunity to equalize in the 70th minute, Kitara's forward Denis Omedi failed to convert from 12 yards.
Before this setback, The Royals had enjoyed an impeccable run, securing five consecutive victories and tallying 15 points.
Brian Ssenyondo's squad has descended to second place, now three points behind the league leaders BUL FC, who boast 18 points.
The triumph allowed Muhammad Ssenfuma's Maroons to climb two places up to sixth in the league standings, now with 11 points from six outings.
In a notable individual achievement, Maroons' Anaku, with his winning goal, claimed his fourth of the season, putting him at the top of the scoring chart alongside BUL's Alex Kitata.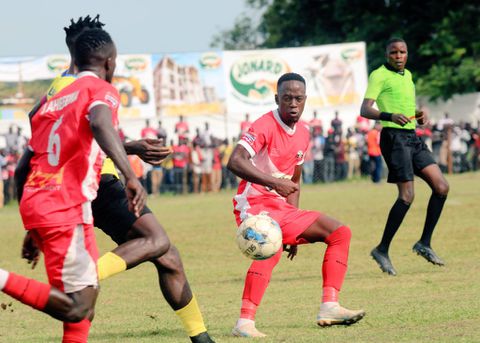 Looking ahead, Kitara is set to face URA FC at Mehta Stadium in Lugazi on Friday, November 10. The following day will see Maroons playing hosts to NEC FC in Luzira.
Wednesday Results
KitarA 0-1 Maroons
NEC 0-3 Gaddafi
Busoga 0-2 UPDF