Kitara FC's defensive linchpin Benjamin Nyakoojo is facing a significant period on the sidelines following a serious injury incurred during the FUFA Drum quarterfinals.
The Tooro Province player was dealt a major setback as his team was bested by Busoga Province with a scoreline of 3-1.
Medical evaluations have established that Nyakoojo sustained a fibula fracture in his left leg. A joint statement from the medical teams of Kitara FC and Tooro Province clarified the extent of the injury.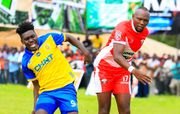 Kitara FC has had an exceptional kickoff to the 2023/24 StarTimes Uganda Premier League season, with defender Benjamin Nyakoojo proving to be a cornerstone of their defense.
"The diagnostics reveal a fibula fracture in the left leg," Kitara FC's website stated, relaying the medical findings," the statement read.
"Nyakoojo is slated for an eight-week recovery period before he can return to the field," it added.
This injury is a blow to Brian Ssenyondo's squad, which has enjoyed a sterling start to the season, amassing 15 points out of 18.
Nyakoojo's absence will be felt in the upcoming match as Kitara is set to visit URA FC at Mehta Stadium in Lugazi on November 10, a poignant moment as he faces his previous club.
The captain of Tooro Province is set to miss a series of crucial fixtures, including encounters with Vipers SC, Express FC, BUL FC, NEC FC, Bright Stars FC, Mbarara City FC, and Arua Hill SC, among others.
Renowned for his stalwart defensive skills, Nyakoojo has been central to Kitara's impressive performances, notably securing the man of the match accolade in the victory over UPDF FC.
His prowess had recently earned him a spot on the national team roster for the upcoming 2026 FIFA World Cup qualifiers against Somalia and Guinea.
Regrettably, due to his current condition, he will have to withdraw from the Uganda Cranes squad.