The overall winner between Algeria and Uganda will face the better side between Burundi and Ethiopia in the second round.
Uganda Crested Cranes head coach Ayub Khalifa has acknowledged that Algeria was a better team after going down 2-1 at the FUFA Technical Centre on Tuesday afternoon.
The two nations were contesting in the first leg of the first-round qualifier of the 2024 Africa Women's Cup of Nations.
Uganda controlled a better part of the first half but was shell-shocked after arriving from the dressing room as the Algerians grabbed two goals inside four minutes.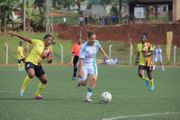 Fauzia Najjemba's goal was not enough as Uganda Crested Cranes lost 2-1 to Algeria in the 2023 Africa Women's Cup of Nations first round qualifier.
Algeria's goals were scored by Inter Milan striker Habiba Gouthia Imane Chebel, while Fauzia Najjemba scored Uganda's consolation.
Khalifa says that his team was overwhelmed by the star-studded Algerians, who were littered with players who play in Europe.
"We played against a team that was better than us, according to my analysis as the coach," Khalifa acknowledged.
Defensive leakage
The coach pointed out some leakage in his defensive set-up as one of the reasons Uganda lost but promised to rectify ahead of the second leg.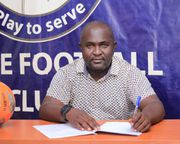 Mugerwa was unveiled officially on Tuesday as the Cops' new head coach for the next two years, with his immediate task to guide the team back to the top flight.
"We're going to see how to rectify some issues in our team ahead of the return leg. We struggled to defend in our backline, so we have to find a solution for that before the second leg," he analyses.
The return match will be played at the Miloud Hadefi Stadium in Oran, Algeria.
The overall winner of the tie will face the better side between Burundi and Ethiopia in the second round.