KCCA's misery was compounded when centre back Mustafa Mujuzi was given marching orders for denying the Libyans a clear goal-scoring opportunity.
After falling 3-1 to Libya's Abu Salem in the second preliminary round of the CAF Confederation Cup, KCCA FC must now win their home fixture with enough goals to progress to the group stages.
A 2-0 victory at home would be enough to send the Kasasiro Boys back to continental football, but that is easier said than done.
Head coach Sergio Traguil, managing the team in his first competitive clash, was left in disbelief following his side's shocking performance that saw them punished on three occasions to go down 3-0.
"We started the game very nervous. We didn't play our football, especially in the first twenty minutes. We made some silly mistakes that we are not used to," Traguil said in his post-match press conference.
"It's also lack of competition; this team is having competition more than us, and also our inexperience in this CAF situation cost us some silly mistakes," he added.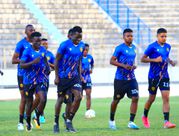 KCCA FC have started their journey to the CAF Confederation Cup with a 3-1 defeat to Libya's Abu Salem in Tunisia Sunday evening.
KCCA got a bye in the previous round and are now going up against a team that played two matches to get to the last hurdle of the preliminaries.
Mistakes at the back handed the Libyan outfit the early advantage, which was doubled before the break to leave Traguil and his charges in a spot of bother.
Things turned from bad to worse after the break, with Abu Salem making it 3-0 after KCCA failed to deal with a corner that was headed in to create daylight between the two sides.
Young striker Abubakar Mayanja restored KCCA's hopes with a crucial away goal that he headed in off Arafat Usama's cross late in the game to make it 3-1.
KCCA's misery was compounded when centre back Mustafa Mujuzi was given marching orders for denying the Libyans a clear goal-scoring opportunity.
"This team, I didn't see anything special, to be honest with you. They won, yes, they got their chances, but we also had ours," Traguil opined.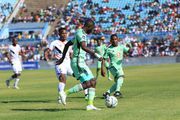 Botswana champions Jwaneng Galaxy have pulled their another upset, defeating South Africa giants Orlando Pirates in the first leg of the second leg of the CAF Champions League preliminaries in Botswana.
"They use the long balls, then injuries to waste time, nothing more.
"We have to do better in the second leg. This goal that we scored here was very important in my opinion and can even decide something."
The two sides will clash again on October 1, 2023, and Traguil will be hoping his side can lift themselves and get off to a good start in the do-or-die encounter.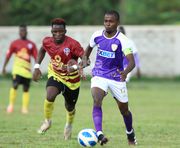 The Purple Sharks found themselves a goal down in just two minutes after Marrons forward Darius Ojok scored early to give the visitors a flying start to the game.
"I think today we respect these people too much.
"It is very possible to change things in our home."
KCCA last played in the group stages of the CAF Confederation Cup in 2017 under Mike Mutebi and will be looking to return to the same table on October 1 at St. Mary's Kitende.