Ronald Rugumayo's five under par 67 performance at the challenging par 72 Uganda Golf Club on a rainy Wednesday was the perfect tee-off for his quest to claim the coveted 2023 Johnnie Walker Uganda Golf Open title.
This seasoned golfer, who clinched the amateur title in 2017, didn't let the inclement weather deter him. He followed up with another remarkable round, scoring three under par 69 on Thursday.
His steady performance continued with a solid one under par 71 on Friday, accumulating a total gross of 207 (-9) as he prepared for the thrilling final round on Saturday.

As the competition heats up, Rugumayo stands just one stroke ahead of Kenya's Njoroge Kibugu, while Rwanda's Celestine Nsanzuwera and Uganda's David Kalimulindwa trail by two strokes, setting the stage for a nail-biting finish.
It's worth noting that since 2006, the professional division of this prestigious tournament has seen only three Ugandan champions, with Deo Akope claiming the title twice in 2006 and 2014, and Vincent Byamukama winning it in 2013.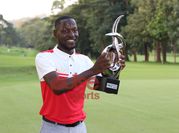 In a record-breaking performance, Godfrey Nsubuga solidified his place in the golfing history books with a commanding victory at the 2023 Johnnie Walker Uganda Golf Open.
Here's a recap of the Pro Open winners since 2006
2006 – Deo Akope (Uganda)
2007 – Dismas Ndiza (Kenya)
2008 – Dismas Ndiza (Kenya)
2009 – Richard Ainley (Kenya)
2010 – Dismas Ndiza (Kenya)
2011 – Dismas Ndiza (Kenya)
2012 – Dismas Ndiza (Kenya)
2013 – Vincent Byamukama (Uganda)
2014 – Deo Akope (Uganda)
2015 – Madalisto Muthiya (Zambia)
2016 – Joshua Seale (South Africa)
2017 – Stephen Ferriera (Portugal)
2018 – Dismas Indiza (Kenya)
2019 – Madalisto Muthiya (Zambia)
2020 – Robson Chinhoi (Zimbabwe)
2021 – Jastas Madoya (Kenya)
2022 – Robson Chinoi (Zimbabwe)