The Johnnie Walker Uganda Open 2023 concluded dramatically on Saturday at the Uganda Golf Club in Kampala.
Dismas Indiza, Kenya's legendary golfer, claimed the top honours by delivering a stunning performance, finishing with a total gross score of 277 over 72 holes, an impressive 11 strokes under par. This victory marked his seventh Professionals Open title, setting a remarkable record.
Indiza, who began the final day trailing the leader, Uganda's Ronald Rugumayo, by three strokes, exhibited a blend of aggression, precision, and composure right from the opening holes of the final round.
He opened with an eagle on the par-5 hole one and continued to impress with consecutive birdies on holes 2 and 3. Despite a challenge on the short par-3 holes, resulting in bogeys on holes 9, 11, and 17, Indiza's remarkable form allowed him to secure victory.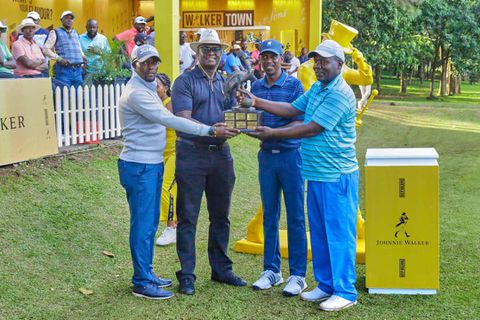 Reflecting on his performance, Indiza shared his uncertainty during the final moments, saying, "When I finished with a -2 lead."
"I did not know I would be the champion. Rugumayo had put up perfect form, yet he still had a couple of holes to play, so I thought he would catch up or maybe even surpass my score."
Rugumayo, who had maintained a consistent lead throughout the initial three rounds, faced difficulties maintaining his form on the final day, ultimately finishing with 280 strokes (-8), tying for second place alongside Namibia's Paulino Kasoma.
Ugandan golfer Phillip Kasozi delivered an impressive performance, securing fourth place on the final day with a score of 282.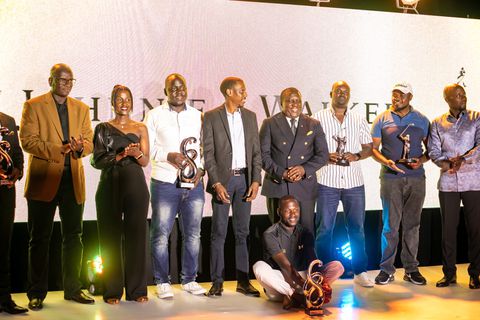 The Open culminated four exhilarating weeks of exceptional golf. The event's title sponsor, Johnnie Walker, spared no effort in making it a memorable experience for golfers and enthusiasts.
The festivities following Indiza's triumph included transitioning to the "19th hole" theme of black and gold, a sumptuous dinner, and live entertainment from Myko Ouma and Joseph Sax.
Attorney General Kiryowa Kiwanuka underlined the government's dedication to securing sports facilities for their intended purposes and cited the recent revamping of the Masaka golf course and actions taken to protect the Soroti golf club from encroachment as significant milestones.
The evening concluded with the official handover of the Uganda Golf Club course by UGU President and the Attorney General to Uganda Golf Club Captain Mr Emmanuel Wamala. The announcement that the Entebbe Club would host the 2024 Johnnie Walker Uganda Open marked the next chapter in this prestigious golf tournament.
The 2023 Johnnie Walker Uganda Open attracted players from over 15 countries, including China, Germany, Zambia, Zimbabwe, Namibia, Kenya, and Rwanda, making it a truly international and memorable event in golf.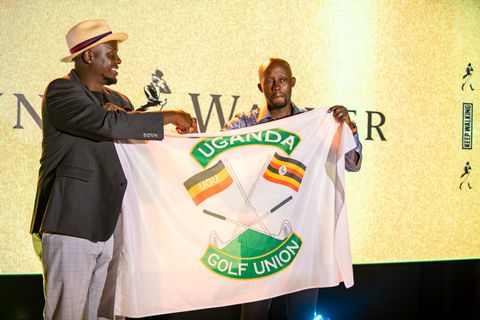 Here's a recap of the Pro Open winners since 2006
2006 – Deo Akope (Uganda)
2007 – Dismas Ndiza (Kenya)
2008 – Dismas Ndiza (Kenya)
2009 – Richard Ainley (Kenya)
2010 – Dismas Ndiza (Kenya)
2011 – Dismas Ndiza (Kenya)
2012 – Dismas Ndiza (Kenya)
2013 – Vincent Byamukama (Uganda)
2014 – Deo Akope (Uganda)
2015 – Madalisto Muthiya (Zambia)
2016 – Joshua Seale (South Africa)
2017 – Stephen Ferriera (Portugal)
2018 – Dismas Indiza (Kenya)
2019 – Madalisto Muthiya (Zambia)
2020 – Robson Chinhoi (Zimbabwe)
2021 – Jastas Madoya (Kenya)
2022 – Robson Chinoi (Zimbabwe)
2023 Dismas Ndiza (Kenya)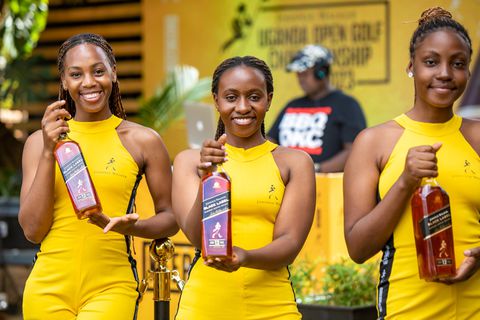 The prize money break-down
First (Percentage: 21%) – Shs21,000,000/=
Second (Percentage: 14.00%) – Shs. 14,000,000/=
Third (Percentage: 8.46%) – Shs. 8,460,000/=
Fourth (Percentage: 6.25%) – Shs. 6, 250,000/=
Fifth (Percentage: 5.00%) – Shs 5,000,000/=
Sixth (Percentage: 4.17%) – Shs 4,170,000/=
Seventh (Percentage: 3.57%) – Shs. 3,570,000/=
Eighth (Percentage: 3.13%) – Shs. 3,130,000/=
Ninth (Percentage: 2.78%) – Shs. 2,278,000/=
10th (Percentage: 2.50%) – Shs. 2,500,000/=
11th (Percentage: 2.27%) – Shs. 2,270,000/=
12th (Percentage: 2.08%) – Shs. 2,080,000/=
13th (Percentage: 1.92%) – Shs. 1,920,000/=
14th (Percentage- 1.79%) – Shs. 1,790,000/=
15th (Percentage – 1.67%) – Shs. 1,670,000/=
16th (Percentage – 1.56%) – Shs. 1,560,000/=
17th (Percentage – 1.47%) – Shs. 1,470,000/=
18th (Percentage – 1.39%) – Shs. 1,390,000/=
19th (Percentage – 1.32%) – Shs. 1,32,000/=
20th (Percentage – 1.25%) – Shs. 1,250,000/=
21st (Percentage – 1.19%) – Shs. 1,190,000/=
22nd (Percentage – 1.14%) – Shs. 1,140,000/
23rd (Percentage – 1.09%) – Shs. 1,090,000/=
24th (Percentage – 1.04%) – Shs. 1,040,000/=
25th (Percentage – 1.00%) – Shs. 1,000,000/=
26th (Percentage – 0.96%) – Shs. 960,000/=
27th (Percentage – 0.93%) – Shs. 930,000/=
28th (Percentage – 0.89%) – Shs 890,000/=
29th (Percentage – 0.86%) – Shs. 860,000/=
30th (Percentage – 0.82%) – Shs 820,000/=
Total: Percentage – 97.5% – Shs 97,500,000/=