URA FC captain Enock Walusimbi has served his two-match suspension from FUFA for a harsh challenge on Wakiso Giants FC's Andrew Kigozi.
As he concluded the ban, the Uganda Cranes' defender penned an apology to his Wakiso counterpart on Tuesday, October 31.
"I am sorry that I caused all that pain to you, my brother Samson Kigozi," Walusimbi's apology started.
"Honestly, I never intended it, and I hope you accept my apology, and I wish you a quick recovery."
He added: "To my fans, the entire URA FC and football supporters all over, I am sorry."
The incident happened in the Tax Collectors' 1-0 win over the Purple Sharks at Mehta Stadium, Lugazi, on Saturday, October 21.
The violent tackle forced Kigozi off just after three minutes into this Uganda Premier League encounter.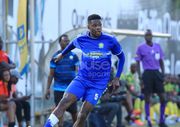 Walusimbi played violently towards Wakiso Giants FC's Andrew Kigozi with an open boot last week, and while the officials missed the incident, it was captured on video.
The former Express skipper missed URA's 1-1 draw with Maroons FC in Luzira and a 1-0 loss to BUL FC at Njeru.
Walusimbi will return to action when the four-time UPL champions host the on-form Kitara FC at Mehta Stadium, Lugazi, on Friday, November 10.