A few days ago, we witnessed a regrettable incident in which one Fahad Sekayiba, a referee, got beaten up very severely after a game between Express and UPDF Football Clubs.
A few days ago, we witnessed a regrettable incident in which a one Fahad Sekayiba, a referee, got beaten up very severely after a game between Express and UPDF Football Clubs.
The referee was accused of wrong (biased) decisions that led to Express failing to win the game as it ended in a 1 – 1 draw.
The Federation of Uganda Football Associations (FUFA) firmly stated that it will hunt down the culprits and bring them to justice, especially using the new Sports Act.
Section 64 of this Act provides for a penalty of 9.6 million Ugx or imprisonment not exceeding ten years or both, and it allows the court to award damages or compensation to the injured victim.
I agree with FUFA on this because if left unpunished, the perpetrators might continue after seeing no consequences.
Secondly, no one should turn Sports into a do-or-die affair to the extent of threatening the life of another. Sports cannot be equated to a War Zone.
However, beyond the punishments and deterrents for Hooliganism, we must examine what is causing this in Football and not in other Sports of Uganda.
Football has, of course, had a history of violence the world over and even here in Uganda. Nonetheless, we still need to look at the prevalent and current factors.
I can think of no other factors beyond Sports Betting, the excessive amounts of money now going into football and the lack of transparent – verifiable refereeing.
Football now has a lot of money that many want to win. Therefore, they invest heavily in the football teams to achieve this.
Then some bet lots of their hard-earned money on football games. When wrong and biased refereeing leads to the loss of these money-making opportunities, surely anger will set in.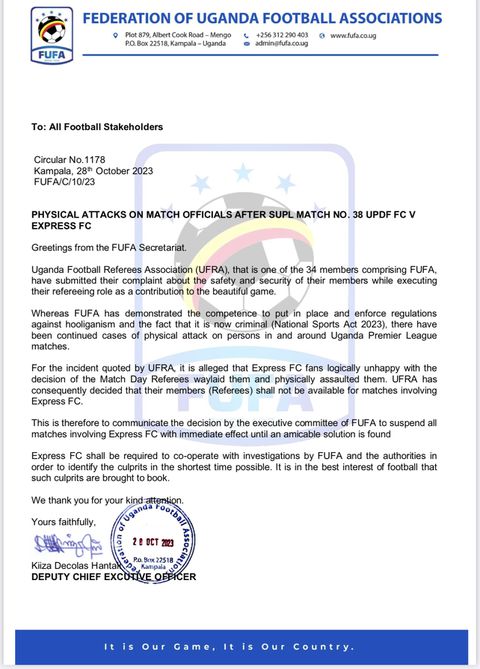 More money in football is just a secondary problem, and this is why I want to deal with the actual problem, which is poor refereeing.
With the poverty levels in Uganda today, you cannot tell who exactly is betting on these games, whether directly or indirectly, from the fans, players, coaches, administrators to the referees themselves. The new Sports Act will do little to deal with this problem.
One of the best ways to stop unfair refereeing is to embrace Cheat-Proof playing formats and videography, as well as use referees who are well-trained, trustworthy and agreeable to both opponents before the game.
In the past, we also had some severe problems of favouritism in Table Tennis when it came to national team selection whenever a major international Competition was around the corner, like the Commonwealth Games, All Africa Games, ETC.
Players and their coaches or sponsors would do anything to qualify to enjoy those trips along with the admirable allowances that came with them in millions of shillings.
I actually won the election to become UTTA President on the promise to stamp out this unfairness in team selection.
Those who had seen my mode of operation knew I would stop this vice without fail. Unfair team selection in Table Tennis is the exact equivalent of unfair determination of the outcome of a game like we are currently seeing in Football.
In Table Tennis, the cheaters were using a system of awarding points unfairly. They would give more points to a competition where their preferred player had won and fewer points to those competitions where their desired players had not performed well.
Then, when their preferred players were leading the rankings with a lot of points, they sometimes even refused to have any other competitions so that their select players could remain on top and then make the trip.
Within two weeks after my election as UTTA President, together with my team, we abolished the Points System and replaced it with a Round Robin playing system.
This created our first enemies and wars in Table Tennis because some former Top players with many points went up in arms, questioning why we had removed the Points qualification System.
Some of these had been critical beneficiaries of unfair selections, which chased away many of the other cheated and disenfranchised players from the Table Tennis Sport.
After abolishing the Points System, we put video coverage in many of the key qualification games.
Then we sat back and waited for the cheaters to cheat again, and we see how they would get away with it. These measures completely stopped the bad manners of cheating for undeserving winners.
The round-robin system meant that you had to play everybody to prove that, indeed, you are the very best. We always started with Round Robins of about 20 players, each playing the other as we trimmed them slowly in stages to the top 10, then to the top 8 and then to the last top five.
Even these last five played in a round-robin, from which we picked the best 3 to represent Uganda at the upcoming International Competition.
Secondly, the video coverage was also there to avoid awarding a point unfairly to the wrong player. Any dispute meant that we replayed the video and then saw clearly who won the point.
We have never even had to do this because the round-robin was enough to eliminate the cheaters. To date, we have over 100 videos of the key selection games still available on our UTTA YouTube Channel.
These videos prevented anyone from claiming a victory they did not deserve. Trust me, we have never had any single quarrel at any of our team selections ever since we did the above interventions.
I, therefore, encourage our Sports Sector to embrace Videography because it can help us with better marketing of Sports to our fellow citizens and Sponsorship Partners.
For the more tricky games like Football, the combination of cheat-proof playing formats, videography, and neutral and mutually agreeable referees will go a good way of calming down losers.
Ugandan Football needs to embrace Video Assistant Referee (VAR) technology. With all their money at their disposal, they can afford this for all critical games on which there is huge prize money and on which Ugandans place Bets.
I advise them to try and make it affordable if it is rolled out to all critical games, as these are many, meaning the cost of video coverage for all games can be quite enormous.
The Writer is the President of the Uganda Table Tennis Association (UTTA) and secretary-general of the Union of Uganda Sports Federations and Associations (UUSFA)