After nine months of fierce competition that began at the start of the year, the 2023 Corporate League season is reaching its climax with the final round scheduled for November 26, 2023.
The penultimate round of the monthly competition took place on, October 29th, at the Makerere University Business School grounds in Nakawa. Over 40 corporate entities participated in this thrilling sports event.
I&M Bank Uganda, in only their second season of participation, displayed remarkable performance just before the grand finale.
During the penultimate round, the bank had their best outing of the season, accumulating an impressive 11 points out of a possible 12. This remarkable performance followed a disappointing eighth round.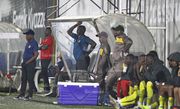 "Service above self" is a motto or principle that emphasizes the importance of prioritizing the needs and well-being of others before one's self-interest.
Despite challenging conditions due to a soggy field caused by heavy rainfall the night before, I&M Bank managed to maintain their style of play, showing resilience and determination.
Godfrey Odoch, the I&M Bank team manager, expressed their team's determination: "We decided, as a team, that we need to finish the season on a high. This being the second-to-last outing, we managed to win three games and drew one."
"This is a significant achievement, and our plan is to carry this momentum into the final round, with the hope of winning all our games on the final day."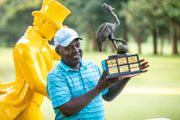 The Johnnie Walker Uganda Open 2023 concluded dramatically on Saturday at the Uganda Golf Club in Kampala.
In their first match of the ninth round, I&M Bank faced a well-organized Royal Van Zanteen side. After a series of missed opportunities, I&M Bank finally secured a 1-0 victory when captain Saddam Kireme capitalized on a loose ball.
Next, they faced a strong Coca-Cola team that had been performing exceptionally well. I&M Bank dominated early, maintaining pressure on their opponents. Midfielder Nicholas Lubowa scored the opening goal, leading to a second victory.
With two wins under their belt, I&M Bank faced DHL, and their team manager, Godfrey Odoch, took charge by scoring a goal that made the difference. Odoch skillfully maneuvered through the DHL defense, securing a third win.
The last match of the day featured I&M Bank in a derby against DTB Bank. The game lived up to the expectations of a derby, with intense tackles and solid defensive play. Both teams played cautiously, resulting in a goalless draw.