The Pool Asssociation of Uganda has commenced trials for the Pool Cranes teams that is expected to represent the country at the 2023 All Africa championships in Johannesburg, South Africa.
The team will take part in the All Africa games and the Hawley Cup from October 8th.
The trials that started on Friday will run through the weekend at Tickles and Giggles bar in Kampala.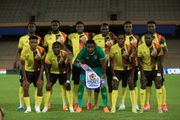 The Moroccan government announced that at least 632 people were killed a over 300 injured in the
PAU invited about 24 players in both the male and female categories from where they'll remain with seven per category.
"The Pool Cranes Technical committee will hold Selections of the National Pool ahead of Next month's All Africa championships and the Hawley cup; both in Johannesburg," Pool Association of Uganda publicist Peter Kyobe announced.
Among those summoned include reigning Women's best player Rasheeda Muteesi, her sister Rukia Naiga, former captain Victoria Namuyanja and Marion Kisakye, commonly known as SHeilla ANkah.
Ceasar Chandiga will battle for a place in the team against the top-ranked players like Masoor Bwanika and Ibrahim Ssejjemba.
Kyobe explained the criteria used to shortlist the players: "The Players have been invited courtesy of their national ranking positions with a few inclusions based on recent form."
Invited players;
Ladies - Rasheeda Mutesi, Rukia Naiga, Victoria Namuyanja, Marion Kisakye, Zaimatt Nambafu, Rita Nimusiima, Michelle Kyomugisha, Rose Namugerwa, Prossy Namuli, Jacenta Kajubi, Sharon Mirembe, Amina Faith Nganda
Men - Ibrahim Kayanja, Glorious Sennyonjo, Ibrahim Sejjemba, Mansoor Bwanika, Habib Ssebuguzi, Joseph Kasozi, Hazali Lukomwa, Simon Lubulwa, Caesar Chandiga, Ian Kazibwe
U-23(men) - Yudah Ssembuusi, Kenneth Odong